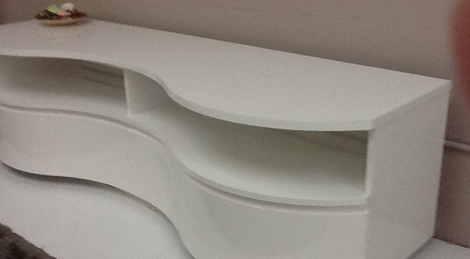 Who is GIVER
Active since 1991 with increasing success in the field of sanding and painting, we are a very well known company in the provinces of Treviso, Venice and Pordenone for the quality and effectiveness of our work and for the professionalism of our staff and technical personnel.
We operate Just-in-Time for sanding, varnishing, lacquering and gilding of curved, doors, panels, and accessories for the furniture industry in general. We continually invest in technology and systems: flexibility, speed and quality of work in every step of our production.
Our head office, with production spaces dedicated to working of about 3000sqm, is located in the industrial area of Albina di Gaiarine (Treviso), an active and strategic crossroad of production and distribution of the North East of Italy.
Our Values
Always work better and enhance human resources: this is our mission.
Satisfaction and trust of our customers are built on the grounds of quality and efficiency of services, expertise and honesty. Every day we put into play resources, technical expertise, experience on raw materials and processes, human relations, with the will to continuously grow as a company and to contribute to training and personal gratification of every member of our team.
Services
We paint surfaces and curved wood and plastic for the furniture industry and interior. Our main processes are: sanding, automatic spray painting, manual painting, "Gold Leaf" gilding, decapé and antique finishing.
In JIT we may realize samples and small series (individual pieces), we intervene with processes of elements in medium and large series, we bring matching damaged materials.
Nel Just in Time realizziamo campionature e piccole serie (singoli pezzi), interveniamo con lavorazioni su elementi in medie e grandi serie, riportiamo in tinta anche materiali danneggiati.
We provide precision plastic molding and ultrasonic welding. On request we take care of installation and assembly of the various furniture components, providing our customers the product packaged and ready for sale. Attentive to the real needs of our customers, we can offer innovative and customized solutions, respecting budgets and completing works in certain times.
Machinery and equipments
We report the most significant characteristics of the equipments in our painting, sanding and molding areas.
N.2 anthropomorphic robots for the automatic spray painting.
N.2 robots for the automatic extraction of the product.
N.3 manipulators for handling painted pieces.
N.2 injection horizontal presses of latest generation.
N.1 ultrasonic welding machine.
Our molding departments are open 24 hours on 24.
Quality and certifications
All our works are always based on the concept of quality. We guarantee our customers the quality of the painting both in terms of finishing and over time duration, the result of constant investment in technological processes and in use of hight quality dyes and paints.
The ongoing training of our human resources allows us to continuously improve the different stages of processing, optimizing costs and maximizing the quality, and ensuring the satisfaction of our customers' needs. Thanks to the technological choices and the methodologies applied, our employees work safely and respect the protection of the environment (recycling of residues of all types of works).
We are currently in the acquisition phase of the UNI-EN ISO 9002 for the quality of service.
References
We offer quality and continuing services to Italian and International Companies operating in the furniture industry.
Some reference:

Napol arredamenti
Jdeal Curvi
Report
Santa Lucia
Mobil Gam
Logika
Proplastek
Eurocurvi
Volpato Industrie
Eureka
Point
Tomasella mobili